What are the best entry level drift cars?
In order to answer this question, we need to come up with baseline qualifications.
Over the past month or so, we've looked into a variety of cars for drifting. Given that we already have a V8 Swapped RX8 built for road racing and understanding the work that went into getting that thing trackable, we want to focus only on cars that don't require an engine or transmission swap, or adding forced induction (if the car didn't already come with it) to be driftable. We want to look for cars that anyone can buy completely stock and go drifting without making a single modification (at least to start with). We are chiefly concerned with getting seat time drifting, not having the most awesome drift car possible, (at least not at first), and of course, it has to cost under $5,000.
Given these qualifications, we had to eliminate a lot of popular drift cars from the list because they require some decently significant modifications to make them driftable. Some of these cars were:

1. Nissan 240sx – here in the States, these came with either a SOHC KA24E (fun fact: this was the first engine we swapped into my Datsun 510), or a DOHC KA24DE, which despite the many YouTube videos showing that they're capable of drifting with either of these iron block, naturally aspirated 2.4l 4-cylinders, I am not convinced. Their cult status in Japan comes from the legendary all alloy, 2.0 turbocharged 4-cylinder, the SR20DET. The later powerplant has more than enough oomph to keep the rear wheels spinning, but unfortunately here in the States, we'd have to perform an engine swap.
2. Volvo 240 – we love Volvos, especially the 240 wagons (245's). We've owned two of them. However, finding a factory turbocharged, manual transmission Volvo 240 in driftable condition will most likely cost more than the $5k limit we are placing on this selection. There are also other issues with the 240. The best manual transmission offered in the later model 240's is the allow cased m47 and it is limited to the low 200's in terms of torque. Swapping to a T-5 or similar is more ideal. The dana 30 rear end is also weak. After reading many, many forum posts of Volvo drifters blowing up their rear ends, a stronger solution must be swapped in– something like a cheap and plentiful Ford 8.8 rear axle. So again, not a candidate for this comparison.
3. Mazda Miata – The answer is always Miata… Or is it? Not much else can be said about the Miata that hasn't already been said, however, after owning a non-turbocharged NA miata, we are not convinced of its ability to be a competent drift car in stock form. Autocrosser, yes. Drift car, no. (we will cover Miatas in a future article).
4. Mazda RX-8 – We mentioned previously that we currently own an RX8 that we've swapped a Ford 5.0 mustang engine and 5-speed Tremec T-5 transmission into. We'll cover this in more detail in a later post. The RX8 provides a great chassis with fantastic suspension and some of the best brakes on the used market. However, the Renesis engine has a bunch of reliability concerns and makes very little torque. It can be made to work, but, compared to the other options, we don't think the RX8 is a good candidate specifically for drifting. It's a great option for autocrossing and potentially for starting your journey in road racing, which again, we'll cover more in depth in upcoming articles.
5. FC Mazda RX-7 – There were several different options available with the FC RX-7. These are the naturally aspirated version (146-160hp), a convertible version (also NA), and a turbo version (182-200hp)– with the turbo being the most desirable. Finding a turbocharged FC in driftable condition for under $5k is increasingly difficult. We have a turbocharged S5 13b in our Datsun 510 and love them, but not for an entry level drift car where the focus is seat time rather than garage time. Let it be known that we really like the FC's (especially Hert's FC, see the 'Twerkstallion" in action below), however, we just don't think it stacks up to the other options. We're also not including the first gen. RX-7 (FB) because it lacks hp/tq, and also has a weak rear end and transmission. The incredibly sexy (IMO) 3rd generation RX-7 is obviously a lot more than $5k in driftable condition.
Below is the list of cars, in order of appearance on this site, that fit the requirement of being "driftable" in stock form for under $5,000:
–E36 328i manual transmission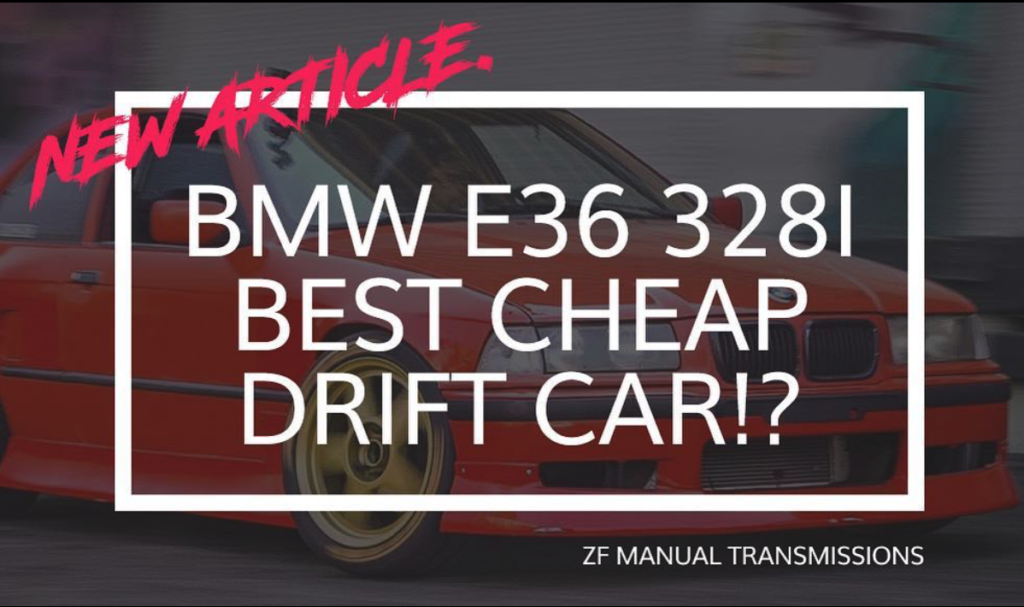 –Ford Fox Body Mustang with the 5.0 V8 and manual transmission
–4th Generation Chevrolet Camaro with LS1 and t-56 manual transmission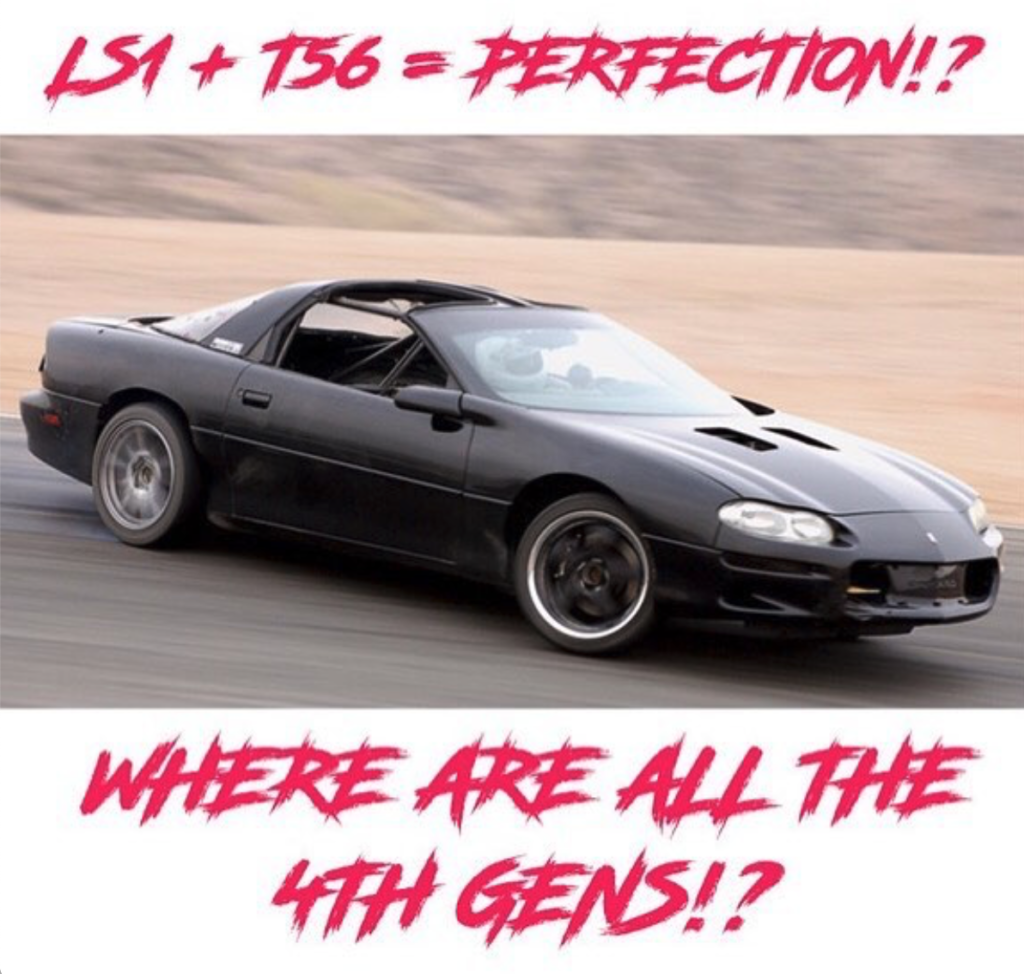 –manual transmission Nissan 350z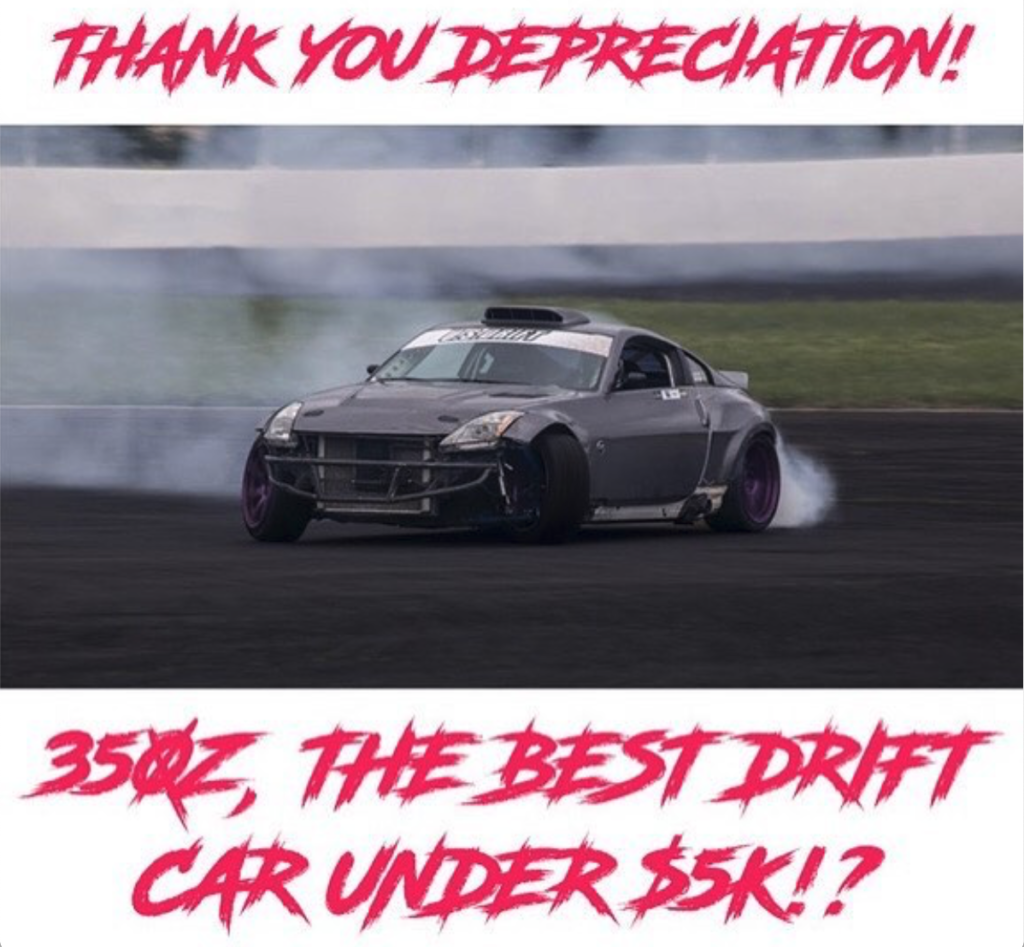 –manual transmission Infiniti G35, both coupe and sedan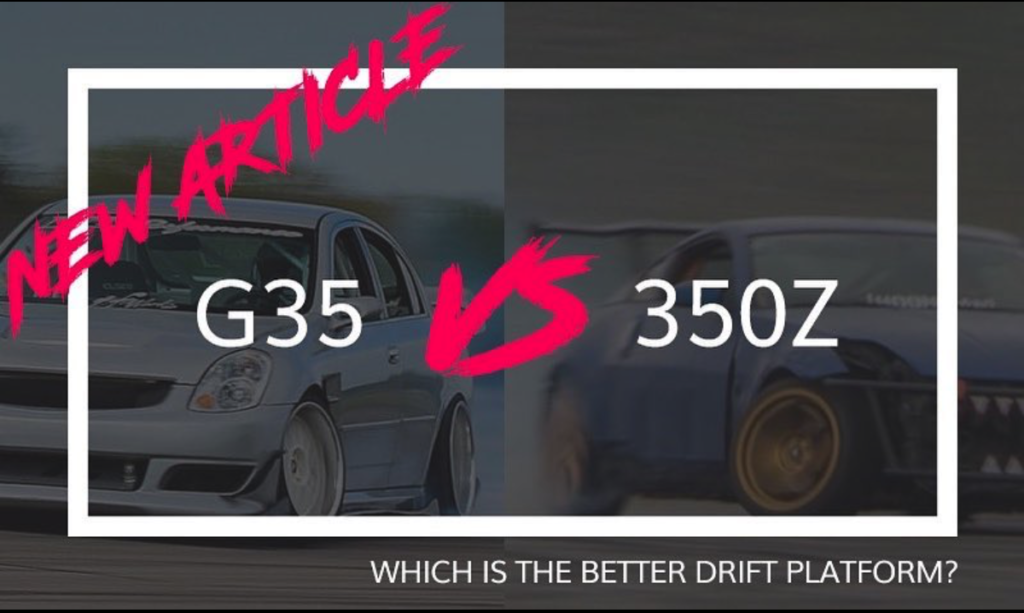 –A70 MK3 Toyota Supra Turbo Manual transmission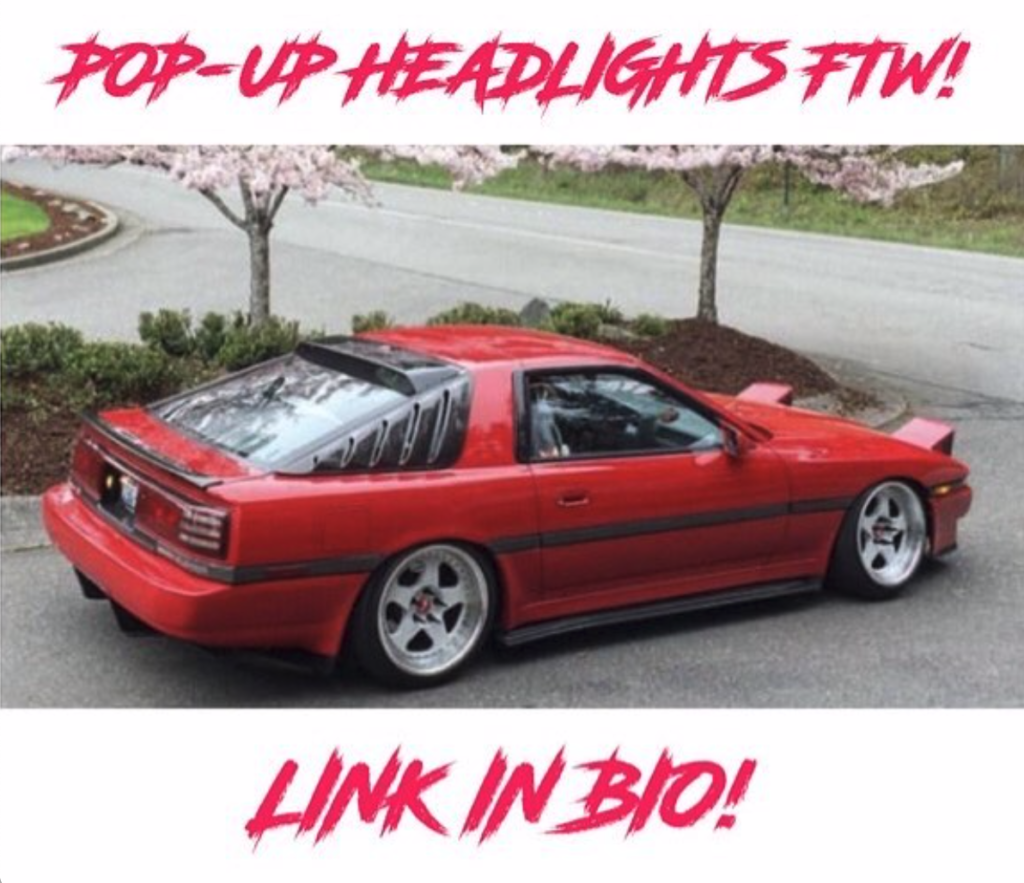 So, which one of them would be the best to get started drifting? In order grade the cars, we need a rubric to work from.
We believe the biggest barrier preventing people from going drifting is the cost– both in actual dollar amounts spent and time spent in preparing the car for drifting. We will be evaluating the cars on the following criteria:

1. initial cost
2. cost/effort for front angle kit (talking bolt-in kits that someone could install in their driveway)
3. power/weight ratio
4. cost/effort for driftable LSD (not counting welding, mostly because not many of us have welders, and we want to be able to drive the car to and from the track)
5. handling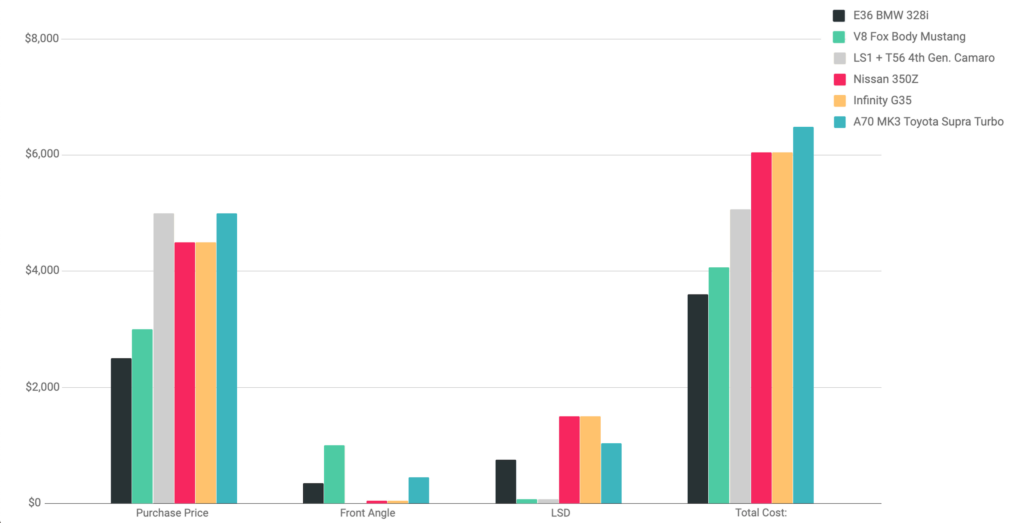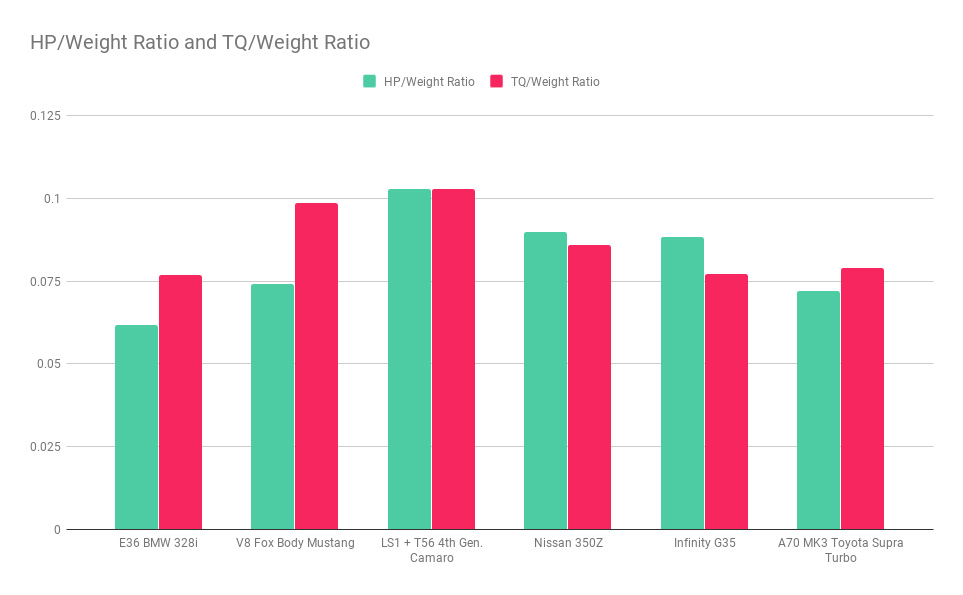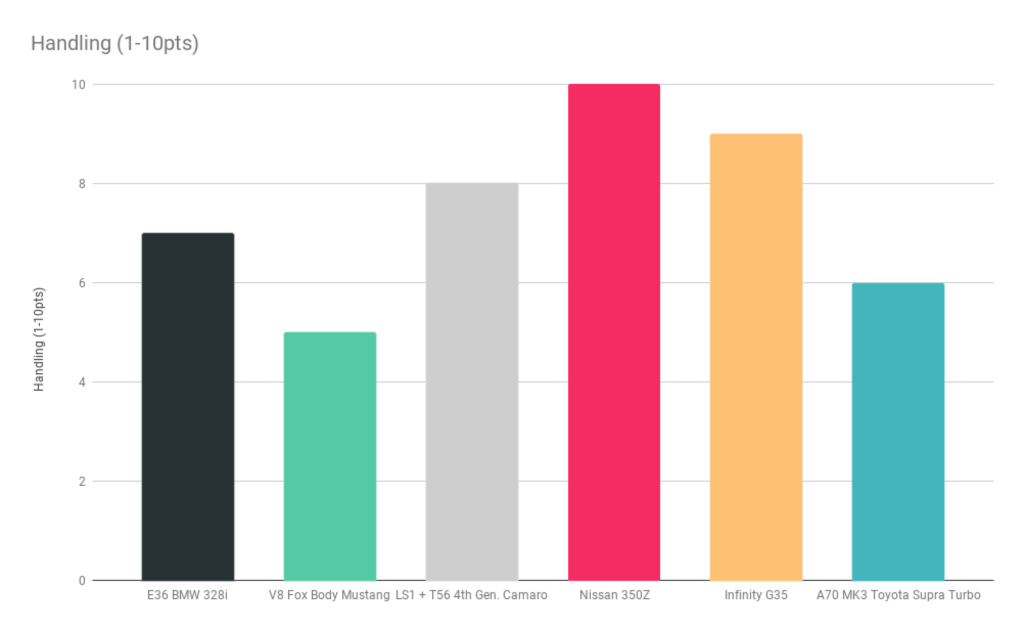 Drumroll, please… and the winner is!?
Based on this data, the best entry level drift car is the BMW E36 328i!
It is the best compromise based on all of these metrics and is especially inexpensive to get started. What you do think? Please leave a comment below!