Is the 2011-2014 V6 S197 Ford Mustang the best budget track car and/or drift car for $5k!?
In 2011 Ford released an all-new and all-aluminum, dual overhead cam (DOHC) V6 putting out 305HP and 280lb/ft of torque! This means plenty of power to make us grin ear to ear at the track as well as do slidy things with our friends. In a freaking V6 Mustang! These power numbers allow the 2011-2014 V6 Mustang to cross the quarter-mile from a standstill in under 14 seconds, and 0-60 in around 5 and a half seconds. The power numbers also put it in an almost identical power to weight ratio as the 350Z/G35 and Hyundai Genesis Coupe. With the 350Z's and G35's getting older and the price of the 2011-2014 V6 Mustangs in the $5k range, we thought we'd look into them a bit more to see if they're worthy of consideration for a proper seat time car…
Suspension
Even though the powerplants in the 2011 Mustangs were completely new for that year, the suspension was largely unchanged throughout the life of the S197 Mustang. The only differences I could find from scouring the internet are, as follows:

-'10-14 Mustangs went to 19mm lower front ball joint, the earlier cars had 18mm
-'11-14 V6 and GT have a different diameter strut rod than all other S197 Mustangs;
-'11-14 Mustangs have a longer upper control arm than the earlier cars and a revised UCA mount to match

When the new V6 Mustang was released in 2011, it was met with plenty of praise from journalists. There were even options to have the exact same suspension on the V6 as on the GT. In all of the track tests with the factory tires, the base Mustang was able to pull a maximum lateral G of .96g which puts it in the same handle category as much, much more expensive cars. An impressive number to say the least.
Drivetrain
The Ford Duratec 3.7l V6 known as the "Cyclone" that was introduced in the 2011 Mustang had very similar power numbers to the previous year's GT V8 Mustang! Unlike the iron block DOHC 4.6 V8 of the previous year, the all-alloy V6 is a lightweight and compact engine.
3.7L V6 Engine Specs & Info
305 HP & 280 TQ
Dual overhead cam design
Redesigned heads, camshafts, intake manifolds boosted horsepower over the '98 model
New intake manifold proved more durable and featured increased runner length and size
All aluminum
60 degree V6
This engine has since been used in a lot of vehicles (including the Radical RXC!) so in the rare case you blew one up, they should be plentiful and cheap in junkyards.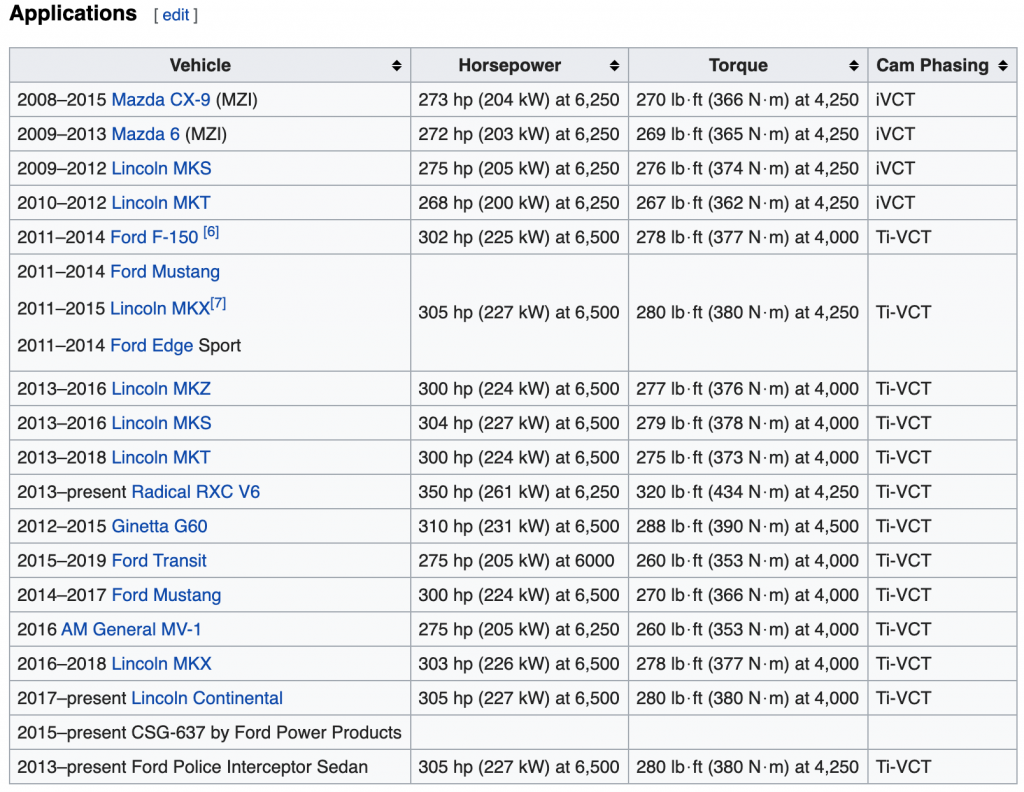 Transmission
The new V6 was paired with a new and robust 6-speed manual transmission, the Getrag MT82 6-speed. This is the same transmission that sits behind the V8 GT mustang so it should be able to take far more abuse behind the V6 vs the Coyote 5.0 V8.
The MT82 isn't without its issues but it is rated for more than 375lb ft of torque, which unless you are adding some forced induction to the v6, should allow it to withstand a considerable number of track days.
Some of the issues that seem to plague the MT82 include the following: hard shifting, missed shifts, screws backing out, and weird clutch feel. However, Ford has since corrected most if not all of these issues with later iterations of the transmission. Ford continued to use the MT82 transmission into the S550 Mustang. If you want to read up on some of the issues the MT82 had, we suggest you read more about them HERE.
Does the 2011-2014 V6 Mustang come with a Limited Slip differential or is it doing the dreaded "one wheel peel"?
Thankfully, even the base V6 Manual Transmission Mustang starting in 2011 comes from the factory with a limited-slip differential (LSD).

The mechanical clutch type "Trac-Lok" LSD in the mustang is quite good from what we've read. It is also inexpensive and plentiful since it is the same unit that comes in all of the S197 Mustangs.

The factory LSD is great for adding traction out of the corners on a road course and is capable of fully locking up both rear wheels. This is great news for those wanting to track their car!
So what modifications do you need in order to take the New Edge Mustang Drifting?
As mentioned above, the V6 mustang does come with a factory LSD which is indeed good enough to get started drifting.

So if the factory LSD is good enough to do some drifty things, what else is needed to go drifting? The short answer is not much, which is why it's such an awesome platform to start with! The s197 was the last generation Mustang with the solid axle rear end, and this generation was arguably the best version. It's as easy as installing an $80 mini-spool to have a fully locked rear end if you want a more drifting focused chassis.

While we haven't ourselves taken the S197 Mustang drifting, we've read from multiple sources who have, that unlike previous generations of the Mustang, the S197 has adequate steering angle from the factory, at least for beginners. As you continue to up your skill level through seat time, there are lots of available upgrades.
One of the cheapest upgrades available, which is also a popular upgrade for the 240sx and 350z/g35 guys, is to just add simple spaces in between your inner and outer tie rods. A 7mm steering spacer will add a relatively significant amount of steering angle for under $50.
If you're after even more steering angle, Drift American and other companies have you covered.
Is the 2011-2014 V6 SN197 Ford Mustang the best budget drift car for $5k?
While there are different possible qualitative measurements baked into this question, we'll focus on the quantitative measurements to determine our answer. Primarily, let's focus on the cost we'd consider required for drifting.
So how does the 2011-2014 V6 S197 Mustang stack up against the competition?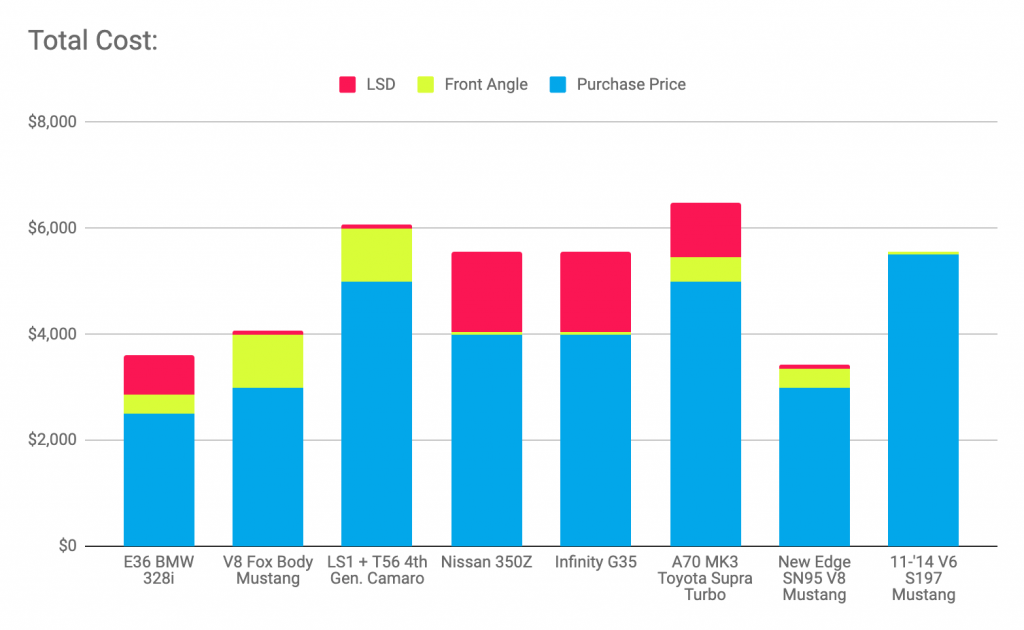 If you're comparing the cars based strictly based on the total cost to go drifting, then no, the 2011-2014 V6 Mustang is NOT the best budget drift car for $5k. Based on those criteria alone, we'd recommend a V8 New Edge Mustang or an E36 BMW 328i. But, if you're looking for something that you don't have to modify at all, then, yes!
How Does the '11-'14 V6 Mustang fair as a budget track car (road course)?
One of the most amazing things about this generation Mustang is it seems to have all the minimum equipment to go to the track including arguably THE most important thing, brakes.

While the stock V6 brake rotor size is 12.5″ in diameter (for the manual transmission model), which is still plenty big for getting started at the track, especially with some track-focused brake pads, the base GT uses a 13.23″ brake rotor and uses the exact same caliper as the V6 model. So if you want a little larger rotor size for better brake cooling at the track, you can simply replace your rotors with those from a GT and get the caliper brackets from the GT and boom you have almost 13.5″ rotors. 100% factory bolt-on upgrade parts that is no more difficult that a normal brake job. With those rotors, track brake pads, and some high-temperature brake fluid, you should be good for lap after lap with no brake fade.

This is hugely significant because, with most cars, trackable brake upgrades can be pricey!
How does, then, the '11-'14 V6 Mustang fair as a budget track car against the other trackable cars we list?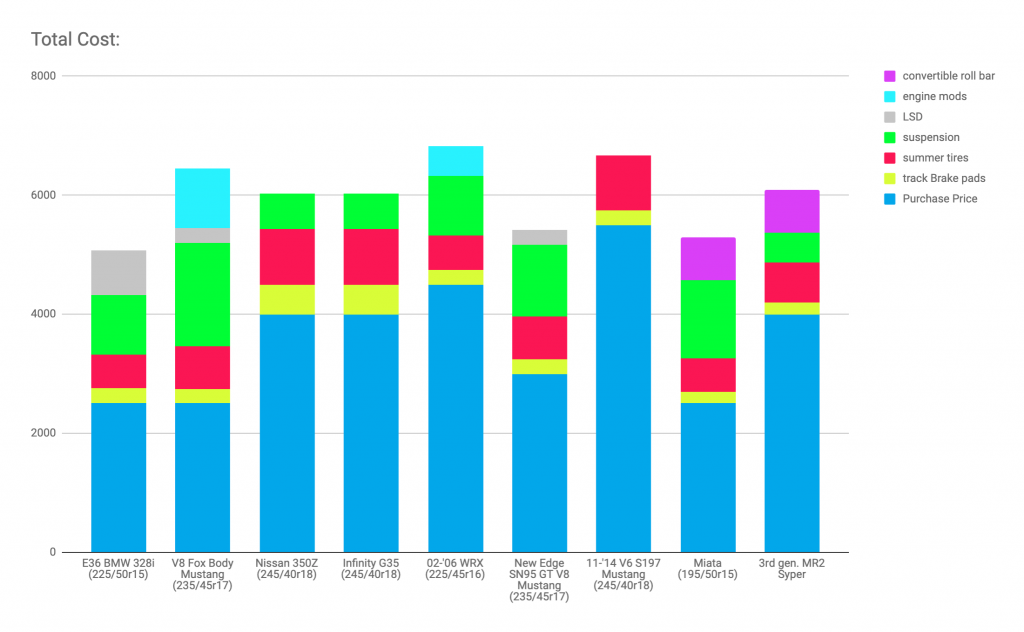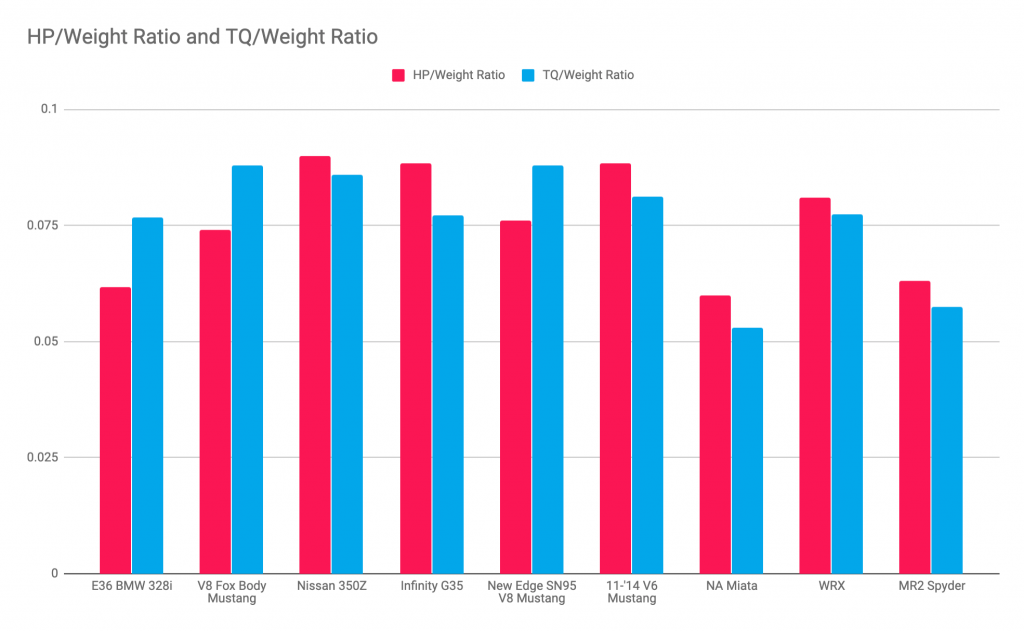 If you're going to judge this contest based on price alone, then no– it is not the winner…
Being "the best" is almost always subjective and this case is no different. So is it the best? We'll let you be the judge.
What about daily driveability?
Unlike most of the cars we list on our site, the 2011-2014 Mustang is a very safe car! It's relatively heavy at 3400+ lbs and is by far the newest car we list on this site. This means it has the most sophisticated crush zones and the most airbags available. For those of us with families, this is (or maybe should be) a heavy consideration.

Another thing that we rarely mention is gas mileage! Why would this matter for a track car, you ask? Well, for those of us who only have the budget or room for a single car, and that car must serve as the vehicle to drive every day as well as drive on the track, the better the gas mileage our car gets, the more budget we have to track days!

The 2011-2014 V6 Mustang gets nearly 30MPG (29mpg to be exact)!
Are there other considerations for determining whether or not the 2011-2014 is the best budget seat time car available?
For those of us who are wanting to spend more time at the track to focus on our all-important driver mod, newer cars with fewer miles on them should require less maintenance. Their bushings, ball joints, and other typical wear items should be in better shape than other cars that are a decade or two their senior.

Relatively speaking, let's take a look at how the V6 Mustang stacks up against the other cars we list: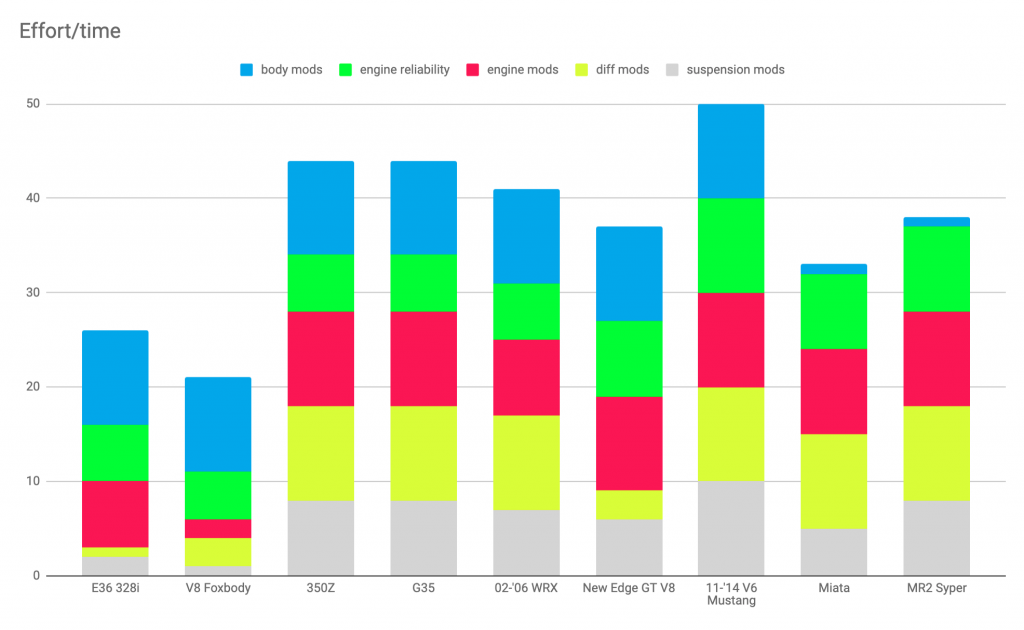 For example, take one of the most popular 'seat time' cars, the 350z. The 350z/g35 has an almost identical power to weight ratio, which should take most of the 'fun' comparison argument off the table, but the 350Z/G35's that you can get for roughly the same price as the 2011-2014 V6 mustang are going to be older, much older and we have the data to back that up.

We've established that the factory LSD in the 350Z/G35 is less than satisfactory for track days, drifting especially. This means that in order to get a satisfactory track day experience out of that chassis for a $5k budget, you have to leave in a budget of around $1k on top of the purchase price. Therefore, a 350Z/G35 that can be purchased for $4,500 or less is going to be older than 2006 and thus 5-8 years older than the first year of the 2011 V6 mustang.

According to the U.S. Department of Transportation, the average driver drives 13.5k miles per year. Given this data, the 350Z/G35 that you would buy for less than $4,500 is going to have 67.5k-108k MORE miles than your average 2011 V6 Mustang! We also think that it's fair to assume that your average manual transmission 350Z/G35 is going to live a hard life. It is an enthusiast's car and enthusiasts like to USE their cars (guilty!). This means that all the typical wear items like bushings, ball joints, etc are most likely in need of service.

Another consideration is the reliability of the drivetrain…

The VQ35DE found in the 350Z/G35 platforms is widely accepted to be a less than a reliable engine. It burns oil and fries piston rings, it rod knocks and blows up, cam sensors go bad, chain tensioners wear out, etc, etc.

While the CD009 manual transmission found in the 350Z/G35's is widely considered a great transmission, even capable of handling the torque from V8's (making it one of the most common transmissions used for LS swaps), it wasn't available in the 350Z/G35 until 2005. Most of the 350Z/G35's you'll find for under $4,500 are going to be '03 and '04 models.
The 2011-2014 V6 Mustangs, on the other hand, are widely considered a very reliable vehicle. The 3.7L Duratec V6 as already mentioned is used in a plethora of other vehicles capable of lasting far and above 200k.

The MT82 6-speed manual transmission has some issues as mentioned above, but is a stout enough transmission to handle V8 torque yet is also behind the V6 Cyclone engine. It is more plentiful and stronger than the transmission in the '03-'04 350Z/G35.
Anything Else!?
Yes, actually… As of right now (2020), the 2011 V6 mustang is not yet 10 years old. Why is this significant,pokay you ask? Financing. Most of us are not able to afford to pay for our cars with cash and therefore must finance our cars via some sort of debt instrument. Usually, the instrument of choice is a used car loan. The problem is that most financial institutions will not give used car loans for cars that are older than 10 years old! Another point for the 2011-2014 S197 Mustang.

Another consideration for us budget-minded enthusiasts is insurance. This is something that is often overlooked but can be the difference over a thousand dollars a year in some cases. The 350Z/G35 is an expensive car to insure. The actuaries out there have deduced that this vehicle is owned but those of us in the higher risk category and therefore costs more to insure. The V6 base Mustang, however, is in a category closer to a Toyota Corolla!
Verdict.
Based on the data presented, for those of us who want to minimize time wrenching, have a budget of around $5,000, and maximize time on the track, we have not seen a better option than the 2011-2014 manual transmission V6 S197 Mustang.

There might be some subjective measures that make you choose another car, but the numbers are difficult to argue against.

Do you agree?