Hyundai Genesis Coupe – Drift or Grip?
As we set out into 2020, more cars from the late 2000s and early 2010s are nearing their bottom depreciation. For us, that means cars that may have been overall solid platforms when they were new, but didn't quite make sense at their price point for budget minded gearheads like us, can now be revisited as budget options.
So does the Genesis Coupe make for a great budget drift car? Or is it better fit for grip driving at an autocross or a track? And are either of the options even achievable for under $5k?
Overview
The Genesis Coupe trims are based around two engine choices with 8 trim levels in total. Production started in 2008 through 2016. For the sake of this article, we're going to try to keep the focus on trims we think would be best fit for drifting or tracking.
At around 3400lbs, this car is on the slightly heavier side when compared to some of the other cars we list, but very similar to the 350z and G35, with a weight distribution of 56/44. According to Hyundai, the Genesis Coupe has 24% more chassis rigidity than the BMW E46 M3 (2001–2006).
The Trim levels available included: 2.0T Base, 2.0T R-Spec, 2.0T Premium, 2.0T Track (2010 only), 3.8 Base (2010), 3.8 R-Spec (2011+), 3.8 Grand Touring (GT), and 3.8 Track.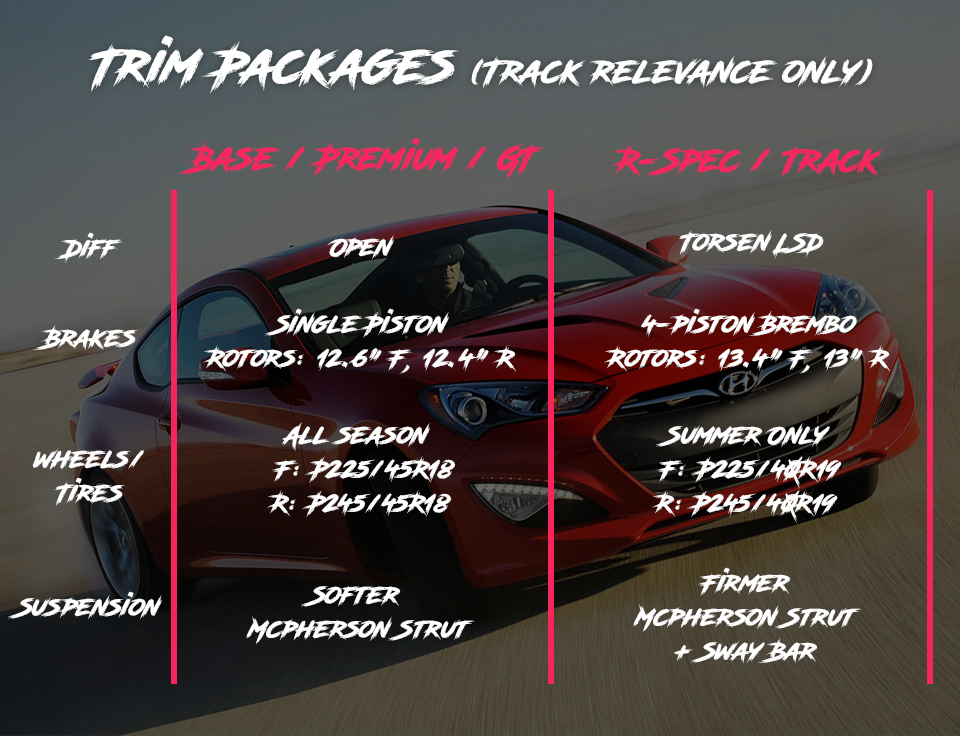 Since this article is focused on the car's application at the track, we'll be ignoring trim features like heated front seats.
Powerplant: 2.0L Turbocharged Inline-Four or 3.8L V6 NA
Let's look at engine choices through the years…
First generation coupes, between 2008-2012, were considered pretty underwhelming with the numbers they put out. Keep in mind their direct competitors were the Nissan 370Z and Infiniti G37 at the time.
Coming with either the 2.0L turbocharged 4-cylinder Theta engine making around 210hp and 235lb/ft torque on 87 pump gas or the 3.8L V6 Lambda putting out 300hp and 266lb/ft torque, the V6 being the more desirable choice for most. Both engines have aluminum blocks and heads, making the smaller 4-cylinder plus its turbo setup similar in weight to the naturally aspirated V6.
Starting in 2013, the second generation Genesis Coupe received a significant increase in power for its 2.0L Theta engine using a larger turbo and higher boost, jumping output close to 60hp (~270hp) and ~30lb/ft torque (~275lb/ft). The V6 was also bumped up in power to 348hp and 295lb/ft torque thanks to Hyuandai calls Gasoline Direct Injection (GDI).
While the V6 option seems like the obvious choice between the two, with its higher numbers and simpler setup, it may not be the best option for us budget enthusiasts.
The V6 model is considerably more expensive based on our searching major used car marketplaces, coming in $3,000+ higher than its 2.0L little brother (of course there are always exceptions and we're always on the lookout!).
While you don't need any power mods to get to the track, we thought it was worth mentioning because the 2.0 is turbo charged it is relatively easy to get a few extra ponies out if it simply by opening up the exhaust. So if you're into that sort of thing, you can expect to pick up approx 35-45 HP and 70-90 Torque!
Transmission and LSD
All years of the Genesis Coupe came with a 6-speed manual transmission (or 5-speed automatic from 2008-2012 and 8-speed automatic with paddle shifters from 2013-2016).
In 2013, models with manual gearboxes were equipped with high-performance carbon-coated synchronizer rings. The first generation received some complaints of a weak transmission from the community, and it appears that the upgraded synchronizer rings ultimately didn't fix the problem.
While it looks to be a toss up on whether you'll receive the 6-speed transmission with upgraded synchros or not, the transmission appears to be able to hold up to mild power increases aside from a couple things to note…
First, it seems like the biggest weak point in the Genesis Coupe is actually its clutch. The stock clutch can't hold more than 275-300 ft/lbs or torque.
Second, is actually the transmission mount. Hyundai installed soft mounts for both the engine and transmission and while the engine mounts seem to be less of a problem, the transmission mount can cause noticeable issues even with stock power levels when driven hard. Without upgrading to a solid trans mount, you'll potentially experience wheel hop under high torque conditions and tires breaking free, as well as experience some rough shifting.
Since we're talking about taking this thing to the track, you won't want to skip out on those two upgrades.
Regarding the LSD, the R-Spec and Track trim levels both came with a Torsen limited slip differential from the factory! Since they're typically a little pricier than the base model, you'll likely find yourself looking to weld your diff, or dish out $300-$600 on a junkyard or used 2-way LSD, or buying one new for over $1k.
Let's Talk Consumables For A Second
Besides the LSD, two of the biggest differences between the trims (that we care about) are actually wheels, tires, and brakes.
The Base, Premium, and GT trims for the Genesis all came with 18-inch wheels while the R-Spec and Track trims came with 19-inch wheels. The R-Spec and Track trims also included bigger brake rotors; 13.4" in front and 13" in the rear with 4-piston calipers, versus 12.6" in front and 12.4" in the rear with single-piston calipers for the other trims. As you can imagine, bigger wheels and bigger brake rotors means more expensive tires and more expensive brakes.
Regardless of whether you plan on drifting your Genesis Coupe or tracking it, both tires and brakes can add up to hundreds of dollars EASILY per event. So if you're being heavily budget conscious and end up with the 19" wheel and Brembo brake setup, you may want to consider at least selling the wheels/tires and purchasing some 18"s or even 17"s (not all 17s are going to fit, though, so double check what you're getting). If you're getting really nit picky, another benefit of downsizing is weight savings!
If you're able to get an R-Spec or Track trim, you'll get Brembo brakes, factory supplied front camber bolts (you have to install), and a stiffer suspension.
Note on the Brembo vs. the base trim brakes: you will get the 4 piston caliper vs. the centered single piston on the base, but the pads are still in need of an upgrade if you plan on anything more than autocrossing.
Suspension and Tuning
As for the suspension, front is a basic MacPherson Strut while the rear is a multi-link setup. A MacPherson strut suspension is a simple and inexpensive suspension setup to manufacture but it lacks performance in mechanical grip compared to say a Miata's double wishbone setup. Here's a detailed video that explains the differences if you're unfamiliar:
All models also included a strut bar and sway bars front and rear, but the R-Spec and Track trims sway bars are much stiffer. Suspension dampers and coils will also be stiffer on the R-Spec and Track trims.
Another Consideration…
Another thing to make note of that could cause a major headache at the track, especially when drifting, is the electronic throttle. Without much searching, you'll find an abundance of owners complaining about their stock throttle response and rev hang.
In response to these issues, the ubiquitous solution in the community of Genesis Coupe owners has been to get a stage 1 tune. Of course, this means another $300-$1k+ depending on whether you're buying one of the ecu flash tuners or going in for a full custom tune on a dyno. Regardless of the method you choose, the benefit of flashing the stock tune are notable:
– Better throttle response
– Usually gets better gas mileage (if you're planning on daily driving it)
– Less Rev hang
– Trims Air fuel ratio
– Overall smooth powerband
The power gains are going to be variable of course, depending on the method, but the low end power gains look to be around 18-20hp and 22-24lb/tq for both the 2.0 and the 3.8.
What's the total cost to take the Genesis Coupe to an autocross?
Below we'll talk about what it takes to make the Genesis Coupe driftable vs what it costs to be able to handle a full-blown road race course, but we also love autocross and if you're a beginner driver, it's probably the first place you'll start. It's certainly where we started.
If you have the R-Spec or Track edition, the only upgrade that you really must do before going to the autocross the solid trans mount ($90) that we mentioned earlier. Other than that, you're good to go. Especially if you're just trying to get as much seat time as possible. Driver mod FTW!
So let's break down the costs to take the Genesis Coupe to a Road Race Course vs making it a
competent

beginner drift car
Drifting
There are generally two main modifications that are required to make most cars driftable. 1. more steering angle and 2. a lockable rear end…
With the genesis coupe, only $300 on a tie rod end steering angle kit is really all you need to have enough angle to make it driftable.
For locking the differential it gets a bit trickier… The R-Spec and Track models come with a Torsen branded Helical (gear) type LSD. This makes for a long life of low maintenance and good for street driving as well as grip driving, but for drifting where you want 100% lock, it's less than desirable. We've never personally drifted the Genesis Coupe (up to this point at least, stay tuned! :)) and the internetz says that it might be okay for the drifter just starting out, but you probably want to upgrade asap to the KAAZ 2-way or something similar that's a clutch type LSD capable of full lock, or the obvious even cheaper, although less DD friendly option, is to weld the diff.
Road Race or HPDE
In order to drive most street cars on a full road race course, one thing is usually mandatory… track brake pads.
We've read nothing about the car having significant cooling issues, so really it's just about upgrading to track brake pads.
So is the Genesis Coupe better for drifting or for grip driving?
Well, we've learned that the Hyundai Genesis Coupe has lots of potential in being a great drift or grip candidate, but if we're talking about keeping things under $5k, the Genesis you'll need to find is very limited. Based on what we've covered, you pretty much want to avoid any non R-Spec or Track trim.
KBB has the first generation 2.0 priced around $4k on the low end regardless of trim, and the 3.8 is just not worth it in the first generation in our opinion (based on the $3K+ price differential). The second generation comes in over $6k. And good luck finding a second gen 3.8 for sale under $7k.
So where does that leave us? If you can manage to get a second gen base 2.0 or a first gen R-Spec or Track trim for around $4k, you could get a tune, fix the trans mount, weld the diff, buy an angle kit, and stay around $5k and go drifting, but it'll be tough. And if all you'd like to do is go to an autocross, you can go straight there after purchasing the car and definitely stay under $4k and have a blast. For a proper road race course you really just need some good track pads.
Ultimately, we think the Genesis Coupe r-spec/track package is a better grip car than drift car because it is pretty much ready to go out of the box. If it were us we'd put a catless downpipe, a tune, get the better trans mount, and some track pads and enjoy. But, if you have access to a welder and you want a dedicated track car, and you really want a Genesis Coupe for a drift car, go for it. Really the most important thing is to get to the track and have fun by any means!